Western digital(WDC). The latest winner in my portfolio
|
Western digital, the hard drive company (WDC)
I was just running my normal screening for stocks and WDC came up. I immediately recognized WDC as I have been quite computer nerd building many computers with Western Digital hard drives.
Company overview
"We are thousands of people worldwide working to enable you to store, collect, access, and use a vast and growing body of digital information. Our reliable hard drives and solid state drives, marketed under the WD and HGST brands, are everywhere that digital information and content is found: in the cloud, supporting your mobile digital lifestyle; in business and personal computers; in external storage devices; and in the digital video recorder in your home. We also make media players that enable you to enjoy your digital content on the biggest screen in your house – your TV. Our customers range from some of the largest companies in the world to individual users like you."
Market Cap.

(Mil)

$
24,534.96
LT Debt/Equity

(MRQ)

%
121.00
The debt to equity is bit on the high side.(recent acquisitions are the main reason)
Drivers for growth are strong in storing data
Valuation respect to growth prospects
Analysts expect 8.02$/share 2017, 9,09$/Share 2018 and 10.13 $/share for 2019.
Average 5 year PE for the company has been around 10.
Assuming that PE ratio holds the same and 2 $/share dividends, the average yearly return on today's share price of 85$ would give about 9-10% per year.
However I believe growth will be stronger and warrant PE of 11 in the future. This would increase yearly return to 15%. And this is with zero dividend growth assumed.
My first hand knowledge and take on HSGT acquisition
There was just one thing that made think that WDC would not be good investment. Western digital hard drives were the best back in the day but not in recent years.
Check this reliability comparison by blackblaze.com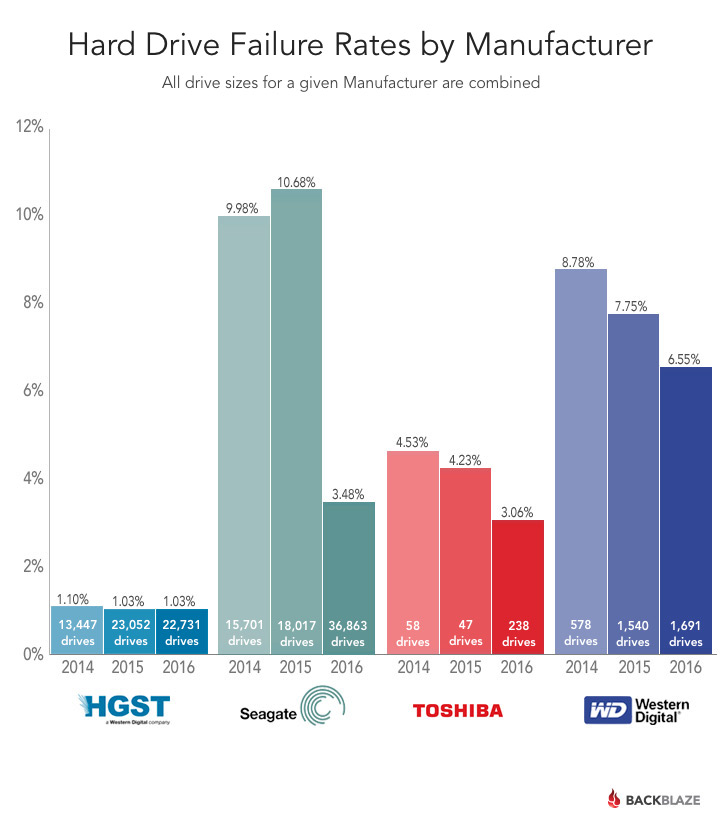 It shows that quite many of the drives have failed and reliability is very important in data business. Not looking good. 🙁  The kicker is however that WDC just bought HGST and look at those small numbers! This is the company with the best technology in traditional hard drives. WDC also operates in SSD space but I think need for mechanical drives is not going away. The shift is that SSD is used more like RAM as you fellow nerds know and data is rewritten constantly in some cases. Traditional drives will serve as reliable data long term storage. Both are needed.
Conclusion
I believe that HGST deal was very good for WDC and drive stronger growth in the future. This is  the why I believe that PE of 11 pr higher will be fair for the company in the future. Therefore 15% yearly returns would be possible in next three years and higher when company increases the dividend. Paying back that debt for now is the better option.
I am long in WDC on my portfolio and purchase price of 77$.
Keep on investing!